Fashion: Summer artisans / Global
Slow burners
From traditional wicker baskets and classic leather sandals to woven artworks gracing Chinese hotels, the artisans of the Mediterreanean are full of talent – and surprises.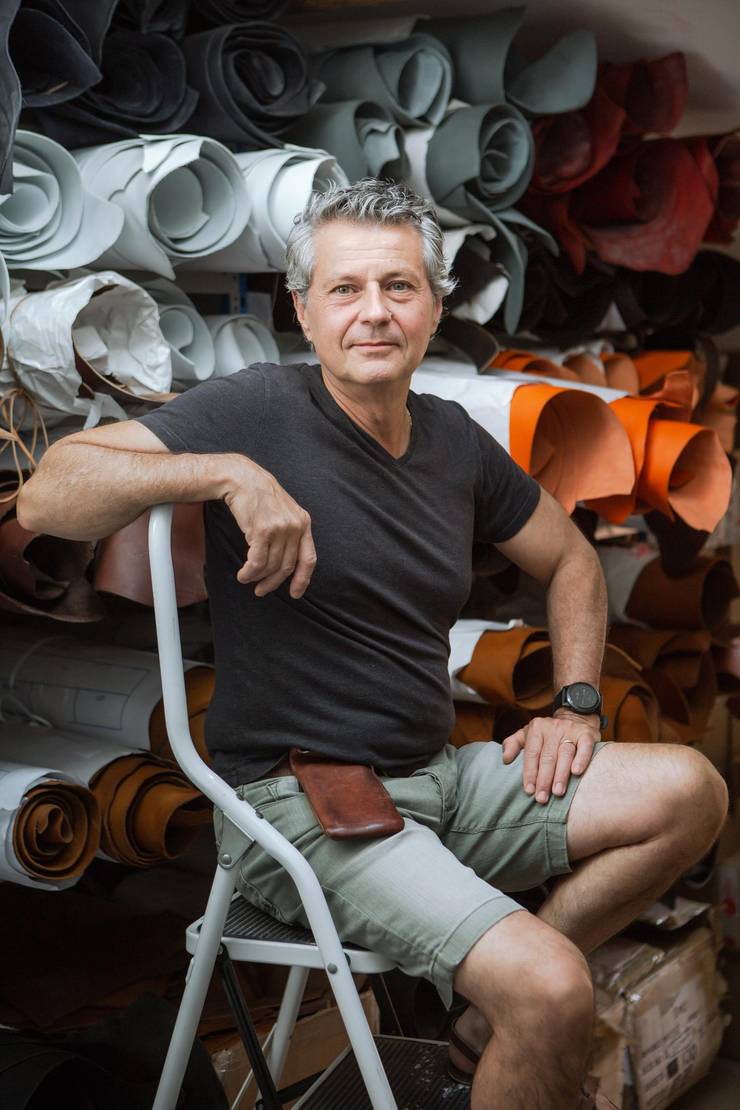 1.Woven wonders
Joanna Louca, Cyprus
Joanna Louca was first introduced to the art of weaving when she moved to London from her native Cyprus in the 1990s to study textile design. "It was the process of turning a raw material into a finished garment that intrigued me," says Louca.
The designer spent hours at her loom during those early years, perfecting weaving techniques. Moving back to her hometown of Nicosia, she sought to "isolate and create", experimenting with colours, patterns and yarns to develop her own signatures. "It's a slow, meditative process," she adds. "You follow the formulas or break them as you go along." Her fabrics – raw, textured and punctuated by geometric shapes and natural colour palettes – have been turned into one-of-a-kind fashion pieces, scarves and, recently, larger-scale art pieces that have featured everywhere from hotels in Guangzhou, China, to Homo Faber in Venice. She is also working with Berlin-based retailer Andreas Murkudis on an exhibition of woven wall pieces, debuting during Berlin Art Week this autumn. 
Louca has struck a balance between the slower lifestyle of Cyprus and international ambitions. "There's a lot of hidden beauty on the island: the proximity of the sea and the mountains, the sacred archaeological spaces and the mesmerising rose gardens that you pass by daily," she says. "But you need to create a cocoon around you."
These days she is mostly found in her studio at the edge of the Old Town, which is "bursting" with new weaves. "The atelier is visible on the street, so friends will often drop by and we'll smoke a cigarette or have a coffee outside," says Louca.
2. Best in shoe 
Rondini, Saint-Tropez
For classic leather sandals look no further than Rondini, which has been manufacturing them in the southern resort town of Saint-Tropez since 1927. "Even as a child, I was often in the atelier doing little tasks," says owner Alain Rondini, the founder's grandson, who took over the business in 1983. "I had the manual skills, so it was easy for me to start working with my father." Almost a century after the workshop was established, it remains a family affair: the team of 22 staff includes Rondini's nephew Xavier and daughter Clara, who oversees the brand's website. 
Rondini is known for its classic Tropéziennes flat sandals that feature four or five straps across the front and another behind the heel to hold the shoe in place. Other styles include the unisex Sahariennes and the elegant Serpent sandals – the latter created by Alain's father Serge Rondini for his wife Roseline. 
The sandals are made onsite at the Rondini atelier, which is now spread over three floors. This proximity to the shopfront means that sandals can easily be adjusted to a customer's foot or well-loved pairs can be brought in for repairs. Even as head of the company, Alain likes to join in the manufacturing process, sewing a pair of soles or cutting pieces of leather. "I have remained an artisan," he adds. "This is what I enjoy – that and contact with our customers, year after year." 
Today Rondini receives orders from around the world but remains a small-scale enterprise. "I have never wanted to distribute my sandals to other stores," says Rondini, adding that he has turned down offers by potential sellers to scale up production. "I am moving forward at my own speed, which enables me to live in tranquillity." 
3. Wicker lady
Mariamélia, Porto
Wicker accessories are abundant in Porto, yet the art of basketry is in decline. Filipa Cruz, a Porto-based creative, founded her wickerware label Mariamélia almost a decade ago to address that very issue. Scoping out a network of six ateliers in Braga, Porto, Barcelos and the Algarve, she works with artisans across the country who make her line of wicker designs such as hats, baskets and objects for the home by hand. "It's an interconnected network because today there aren't many craftsmen who have these ancient skills," says Cruz. 
A rural craft that grew out of necessity, wicker baskets were used by fishermen to transport their catches. Mariamélia baskets are crafted using the same wicker techniques and materials such as rattan reeds, traditionally sourced from wetlands and salt marshes. The brand's tall rattan baskets hail from an atelier in the Algarve. "It used to be called an octopus basket because it was used to carry fresh octopus," says Cruz. Straw hats are another brand signature and Cruz makes sure to offer a range of sizes. "I like how universal the hats are," she says. 
Former graphic designer Cruz has a keen eye for detail. She has grown the brand's community across Portugal and abroad, and Porto has proven to be an ideal setting for her independent business. "It behaves like a big city because of the tourism industry but deep down it is a small town with plenty of local business," says Cruz. This forward-thinking business is helping to bring artisanal tradition back to life.